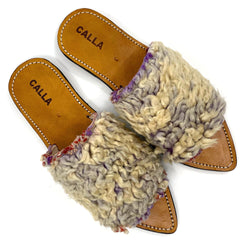 CALLA has created a sustainable line of Babouche slippers that embody conscientious design. Handmade from upcycled vintage Berber rugs, the slippers exist in limited edition - just a handful for each rug. Each pair is one-of-a-kind. We are proud to be working with local Moroccan craftspeople and supporting their traditions.
The CALLA Moki Babouche features an open, pointed toe. Elegant, comfortable and effortlessly versatile!
A few things to know:
The babouches have a leather sole. They can be worn outdoors but we recommend to avoid getting them wet.

Babouches are handmade in the souk of Marrakesh, Morocco. Small imperfections are possible and we consider them part of the shoes charm.
Fit: If hesitating between 2 sizes, we recommend taking the larger size.